About Us: The Sunshine World Team
ALAN GARCIA

Video
| | |
| --- | --- |
| POSITION | FOUNDER |
| SEASONS SKIING/SNOWBOARDING | Every season since 1987! Full time since 2000. |
| SNOWBOARD STANCE | GOOFY |
| FAVOURITE PLACE | ANY MOUNTAINS WITH SNOW ON THEM! |
| EMAIL | alan@sunshineworld.co.uk |
I started skiing when I was just 2 years old and our one family holiday each year was a skiing holiday. I started snowboarding aged 10. I have now been professionally qualified and actively teaching since January 2001, first gaining status as a CASI snowboard instructor when I was 15 years old in Whistler, Canada. I first qualified as a CSIA ski instructor when I was 17 and subsequently took and passed my BASI Ski Instructor training shortly after my 19th birthday. I have trained on both the BASI and CSIA, ISIA courses and taken my level 3 CASI training.
I have had the privilege of learning and the greater privilege of teaching skiing and snowboarding in resorts around the world including, Whistler, Canada, Courchevel, Meribel and Megeve, France, Zermatt, Switzerland, Madonna Di Campiglio and Cervinia, Italy, Soldeu, Andorra, Jasna, Slovakia and of course Zakopane, Poland among many other beautiful places.
I'm also a passionate tennis coach and learned a lot coaching tennis for Club Med in Tunisia in a resort that catered for up to 1,400 guests per week.
I started Sunshine World in 2005 with a view to creating and continually improving "tools" to help as many people as possible enjoy as many wonderful moments as possible while we can. Our focus is on being able to offer such attentive customer service that we can customise our guests' experiences to the most stringent demands and desires and I'm humbled by the kind support I have received from so many great people over the years!
Please call me any time if you'd like a chat!
Sunshine World's Managing Director, Alan Garcia, qualified ski and snowboard pro for over 10 years now, proving that we're not just a bunch of suits.
Thanks to professional photographer Jarno Schurgers (www.jarnoschurgers.com) for taking the three shots to the right!


At Sunshine World you can be sure that a dedicated team of passionate people will be working hard to help create the best possible holiday for you. Here is our 2010 team enjoying a day out in Krakow. Over 1,000 apply to us for jobs each year and we're fortunate to be able to select the very best.
Endorsements of Alan Garcia from

"I met Alan while writing an article for the Independent about skiing in Poland and can wholeheartedly recommend him as both a businessman and an individual. Simply put, he's a great bloke with a great product - generous with his time and attention, keen to make sure everyone sampling his product is having a great time, straightforward, honest and hardworking. Oh, and he knows how to party, too! What's not to like?"

Ross Young, Producer / Director, Freelance (was with another company when working with Alan at Sunshine World LTD)
"If you are after a tailored made holiday at a package price look no further than Sunshine World. Afterall your holidays are supposed to be the time when you shouldn't have to worry. Alan Garcia is "the man"!!"

Top qualities: Great Results, Expert, Good Value

Graham Allison (hired Alan as a Travel Agent in 2008)
More endorsements of Alan Garcia here »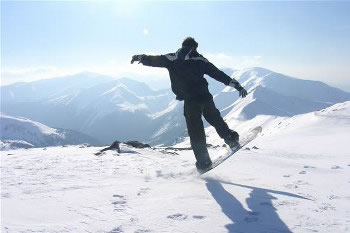 Photo credit: World Snowboard Guide
---
The Sunshine World Pro Team is proudly sponsored by 3Ryde
---
Alan Garcia (Sunshine World LTD, Director): I want to use the tools which in my experience make people (and myself) smile, laugh and feel great to help create wonderful moments in time. Not to make the world a perfect place, but to live and immerse ourselves in one place at one time in a truly exciting experience. ... read full about us text on our sunshineworld.co.uk website here
---
Photos of Sunshine World Chalet in Zakopane, Poland
---
Zakopane, Poland Ski Tours - Zakopane, Poland Snowboard Tours - Discount winter holiday packages - School skiing trips - School snowboarding trips - Full ski lessons and instruction - Full snowboarding lessons and instruction - Incredible ski and snowboard holiday deals - Discount holiday packages to Zakopane, Poland - Full service ski and snowboard trips from England - Chalet rental in Zakopane, Poland and Zakopane, Poland - Corporate skiing and snowboarding holidays to Zakopane, Poland and Europe - All inclusive skiing and snowboarding holidays in Zakopane, Poland other - Zakopane, Poland detinations - Some of the best discount skiing and snowboarding holidays available - Professional ski schools and snowboard schools - Skiing and Snowboarding lift passes in Zakopane, Poland and Zakopane, Poland - Easter, Christmas and winter holiday skiing and snowboard specials - Speciliazing in England to Zakopane, Poland skiing and snowboard adventure tours