About Us: The Sunshine World Team
ALAN GARCIA

Video
| | |
| --- | --- |
| POSITION | FOUNDER |
| SEASONS SKIING/SNOWBOARDING | Every season since 1987! Full time since 2000. |
| SNOWBOARD STANCE | GOOFY |
| FAVOURITE PLACE | ANY MOUNTAINS WITH SNOW ON THEM! |
| EMAIL | alan@sunshineworld.co.uk |
I started skiing when I was just 2 years old and our one family holiday each year was a skiing holiday. I started snowboarding aged 10. I have now been professionally qualified and actively teaching since January 2001, first gaining status as a CASI snowboard instructor when I was 15 years old in Whistler, Canada. I first qualified as a CSIA ski instructor when I was 17 and subsequently took and passed my BASI Ski Instructor training shortly after my 19th birthday. I have trained on both the BASI and CSIA, ISIA courses and taken my level 3 CASI training.
I have had the privilege of learning and the greater privilege of teaching skiing and snowboarding in resorts around the world including, Whistler, Canada, Courchevel, Meribel and Megeve, France, Zermatt, Switzerland, Madonna Di Campiglio and Cervinia, Italy, Soldeu, Andorra, Jasna, Slovakia and of course Zakopane, Poland among many other beautiful places.
I'm also a passionate tennis coach and learned a lot coaching tennis for Club Med in Tunisia in a resort that catered for up to 1,400 guests per week.
I started Sunshine World in 2005 with a view to creating and continually improving "tools" to help as many people as possible enjoy as many wonderful moments as possible while we can. Our focus is on being able to offer such attentive customer service that we can customise our guests' experiences to the most stringent demands and desires and I'm humbled by the kind support I have received from so many great people over the years!
Please call me any time if you'd like a chat!
Sunshine World's Managing Director, Alan Garcia, qualified ski and snowboard pro for over 10 years now, proving that we're not just a bunch of suits.
Thanks to professional photographer Jarno Schurgers (www.jarnoschurgers.com) for taking the three shots to the right!


At Sunshine World you can be sure that a dedicated team of passionate people will be working hard to help create the best possible holiday for you. Here is our 2010 team enjoying a day out in Krakow. Over 1,000 apply to us for jobs each year and we're fortunate to be able to select the very best.
Endorsements of Alan Garcia from

"I met Alan while writing an article for the Independent about skiing in Poland and can wholeheartedly recommend him as both a businessman and an individual. Simply put, he's a great bloke with a great product - generous with his time and attention, keen to make sure everyone sampling his product is having a great time, straightforward, honest and hardworking. Oh, and he knows how to party, too! What's not to like?"

Ross Young, Producer / Director, Freelance (was with another company when working with Alan at Sunshine World LTD)
"If you are after a tailored made holiday at a package price look no further than Sunshine World. Afterall your holidays are supposed to be the time when you shouldn't have to worry. Alan Garcia is "the man"!!"

Top qualities: Great Results, Expert, Good Value

Graham Allison (hired Alan as a Travel Agent in 2008)
More endorsements of Alan Garcia here »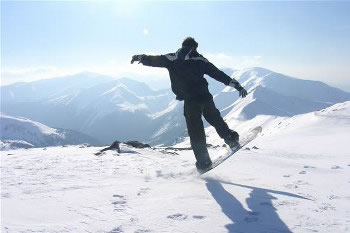 Photo credit: World Snowboard Guide
---
Greg Calcutt
| | |
| --- | --- |
| NICKNAME | Mute |
| POSITION | MANAGING DIRECTOR |
| D.O.B | August 1990 |
| HOMETOWN | Watford, Hertfordshire |
| SEASONS SKIING / SNOWBOARDING | 7 |
| FAVOURITE PLACE | Banff, Canada |
| EMAIL | greg@sunshineworld.co.uk |
Greg's first experience of the skiing world was on a school trip to Ischgl in Austria at the age of 14 and since then he had never looked back. For the next three years he returned to the snow in Austria and Italy with the school. Whilst studying for his GCSE's he upheld 2 jobs to fund his next adventure. The thought of a dead end office job was enough for him to realise his ambition was to venture through the world. At 17, a month long World Challenge expedition to Tanzania, Africa could only confirm his eagerness for adventure resulting in him working as an outdoor instructor for the same company. He helped other youngsters to discover the adventure of life.
From a young age Greg had a huge interest in planes, so at 17 he started working towards his Private pilot's licence which he successfully completed shortly after his 18th birthday. Just in case one day he finds all the snow has melted he is also a qualified advanced scuba diver.
During the winter of 08/09 he spent the season in Banff, Canada gaining his CSIA level 1 and completing an all mountain pro course, including avalanche training and winter survival. Canada was also able to deepen his interest in winter sports like ice climbing.
After his experience of Canada Greg decided to pursue a career in winter sports and applied for a position as a ski instructor with Sunshine world. He met Alan at a recruitment day at Hyde Park. Alan offered Greg a position as a full time ski instructor in the pro team. At the beginning of the 09/10 winter season he worked as a snowmobile and husky sled guide in Finnish Lapland for 3 months before spending the rest of the season with Sunshine World. He will return to Poland with Sunshine World for the whole season of 2010/11.
---
The Sunshine World Pro Team is proudly sponsored by 3Ryde
---
Sean Farmiloe
| | |
| --- | --- |
| NICKNAME | Smash |
| POSITION | Pro Team Snowboard Instructor |
| D.O.B | April 1987 |
| HOMETOWN | Essex, England |
| SEASONS SKIING/SNOWBOARDING | 5 |
| SNOWBOARD STANCE | Regular |
| FAVOURITE PLACE | Anywhere where there's the white stuff! |
| EMAIL | sean@sunshineworld.co.uk |
Although there were many things that he wanted to do at school, there was nothing in particular Sean wanted to chase as a career choice until his first snowboarding holiday in Les Arc 1800, France in 2005. Although thinking he could just pick it up without lessons he really didn't start doing well until 2007 in Slovakia, when he took professional coaching and found that it was so much easier to progress safely. That was when he realised he wanted to share his love of the sport with anyone and everyone.
Finally in 2009, Sean went to New Zealand with his 'brother in arms' Elliott Coke to train to be a snowboard instructor at Coronet Peak and The Remarkables resorts. Here he obtained his SBINZ level 1 and 2 Instructors qualification. He is currently working towards his level 3 snowboard instructors qualification and will soon be preparing for his CSIA ski instructors levels 1 and 2.
Sean met Alan at the Metro Ski show at London's Olympia who gave him the chance to prove his worth in Zakopane for the February half term where his passion for representing for a holiday company was found. He was outstanding from start to finish and has now been offered a full time position on our Pro Team.
Sean is more than happy to answer any questions at any time on the above E-mail address and is hoping to see you in the upcoming season! "If it ain't cold, it ain't cool!" Sean Farmiloe
"I believe Sean embodies everything which is at the heart of the Sunshine World mentality- positivity, friendliness, openness, working hard and playing harder, always smiling and full of enthusiasm and energy, all while having genuine skills on a board and more importantly a unique ability to communicate those skills safely and effectively through well understood teaching progressions to other people of all ages in private and group lessons. In just one lesson with Sean it's hard to not feel like he's already a good friend!" Alan Garcia, July 2010
---
TJ Alty
| | |
| --- | --- |
| NICKNAME | Canada, Big cat |
| POSITION | Pro Team Snowboard / Ski Instructor |
| D.O.B | July 1990 |
| HOMETOWN | Winnipeg, Manitoba, Canada |
| SEASONS SKIING/SNOWBOARDING | 4 |
| FAVOURITE PLACE | in my (imaginary) lovers arms ha ha ha |
| EMAIL | tj_alty@hotmail.com |
Growing up snowboarding was always just a dream to my buddies and I, some thing that we did when we had the chance but just like every Canadian kid our goal was the NHL, which made hockey priority. Now that I've grown up and gave up the dream riding is life and I'm absolutely loving it.
Whether I'm on my board or my skis my motto is always the same go big or go home, well that and everybody wang chung tonight! My first proper season (where I actually worked on the slope), was in Lesotho in southern Africa. After landing that first job I knew exactly what I wanted to do at least for the next couple years, ride every day and now on my second working season here at Sunshine World, I'm loving every minute of it.
I love working with Sunshine World because they embody everything I've been brought up to believe in. Caring, loving and sharing everything you possibly can with the people around you, in a belief that everyone can and will have the best possible time (including yourself) if you stick to these principles. Not to mention everyone here at Sunshine World definitely knows how to party, when were not hard at work you'll most certainly find us (if you can catch up) partying our pants off.
I look forward to seeing how far I can push my riding (especially freestyle), before I become to old and brittle. In the time between that and now I still have plenty to learn it's a good thing I learnt early one of the best ways to learn is to teach others so naturally the best choice was to get my levels as an instructor and here I am now, on the slopes every day and LOVING LIFE, can't wait to meet any of you who decided to come out and ride with us
---
Rienk Alting
NICKNAME
Rienkydink, Rienkyboy, Rienkster ... but don't really need a nickname with Rienk as a name :-)
POSITION
Pro Team Snowboard Instructor
D.O.B
9th May 1983
HOMETOWN
Swifterbant, the Netherlands
SEASONS SKIING/SNOWBOARDING
3
SNOWBOARD STANCE
Regular
QUALIFICATIONS
CASI Level 2
Park Instructor Level 1
(working towards my CSIA level 1)
FAVOURITE PLACE
IMPOSSIBLE to answer, ANYWHERE with a good vibe...preferably with Seren (the very special lady in my life:-)
EMAIL
Email Rienk
I grew up in a little town called Swiferbant in the Netherlands, had a great childhood and as an only child I had a very 'loved' upbringing. As you may know the Netherlands is flat as a pancake and my first interest and possibility to go on a wintersport was not until I was 18 years of age! AND I FELL IN LOVE! ... nothing I have done before I loved as much as being surrounded by the mountains and snow! There and then I made my decision! I want to become a snowboard instructor!! The interest was there but a far away dream at that point in my life. I was still at uni and didn't finish that until I was 21. Did I want to stay in the Netherlands, a mortgage, kids, family?? Like most of my friends and people did around me??? NO WAY!! It's MY life, MY choice what direction I would like to go ... the last thing I want to do when I get older is looking back and regret that I stayed in the same place, do the same 9 to 5 job, being around the same people ... it's a safe 'choice' for some ... and I respect that, but I just didn't fancy that!
I applied for an outdoor instructor job on the Isle of Wight in the UK, I got invited to a selection week (with NO guarantee I had the Job) packed my bag and left my parents, close friends, safe enviroment for a different, new and exciting place, the moment I left the Netherlands I knew I wouldnt come back for a while, regardless what would have happened! I got the job and LOVED it, just the wrong company, after 8 months I went to the west of Ireland to do the same kind of job and from there I have moved around for a bit, for the last few years I have been in the beautiful Cumbria (UK) where I am active in the outdoor activity industry! In the back of my mind I still had the idea that I wanted to become a snowboard intstructor at some point, but having looked into different courses and the amount of money it costs I kept on dreaming! Earning not much money in the outdoor industry it was a challenge to save up a decent amount of money ... but I tried never the less ... and finally after having a financial boost I spend the 08/09 winter in Fernie, Canada and became qualified! THE TIME OF MY LIFE would be a good few words to describe it! After searching the Internet for jobs I got in touch with Alan Garcia - the beliefs and philosophy of Sunshine World really spoke to me and I wanted to be part of that - after having exchanged many emails Alan offered me a position as Part of the Pro-Team in Zakopane, Poland. Not only that, Alan also offered me to be part of the academy to become a ski instructor as well!! Sunshine world: LOVING EVERY MOMENT OF IT!! ...
---
Joseph Marples
| | |
| --- | --- |
| NICKNAME | MARPS, MENTAL MARPS, JONAS BONUS |
| POSITION | PRO TEAM SKI INSTRUCTOR & ASSISTANT TO SENIOR MANAGEMENT |
| D.O.B | 30/07/1991 |
| HOMETOWN | WOLVERHAMPTON, WEST MIDLANDS |
| FAVOURITE PLACE | ZAKOPANE, POLAND |
| EMAIL | joseph@sunshineworld.co.uk |
Joseph was always destined to have a future in the sports and fitness industry having always been into sports from a very early age, most of his childhood spent playing sports. Football was definitely his favourite, but his real calling was cricket and he finally joint Wolverhampton C.C at the age of 11. Progressing through the youth setup Joe picked up a number of awards such as under 13's Player of the Season while captaining various age groups, and was part of the under 15 side which made it to the national finals finishing 7th best in the country. When he reached the age of 16 he made the big jump from youth's into Senior cricket, In his 1st season winning the Staffordshire Sunday League Championship and in doing so earned himself Player of the Season. During this season Joe also qualified as an ECB Level 1 Cricket Coach, and coached the under 13 side at the club to winning the league title.
At school Joseph was always an average student, but an extremely hard worker. At his GCSE's he came out with all his grades between A-C, including an A in Physical Education, and 3 B's in Art, History & Geography which was a fantastic achievement for him. Also a keen musician Joe has a Grade 5 from the Rock School in drumming; having drummed since he was 11. After leaving school he moved onto college, and qualified as level 3 Instructing Exercise & Physical Activity Personal Fitness Trainer, 1 of only 5 people to pass a course of 35 people. Joe moved into work within the fitness industry straight away working for 2 years at a health club as a Fitness Consultant and Class Instructor. Following this he decided it was time to see the world, getting himself a job as a Sports and Fitness Entertainer on the Animation Team at a 4 star hotel in Cyprus. It was only a 7 month contract for the summer season so after finishing Joe decided to challenge himself to do something new, which is when he came across Sunshine World.
He joint up with academy at the end of January for a 10 week period having never skied in his life, but due to a never give up attitude, a willingness to learn and general stubbornness he went from not being able to stand on skis to a very good skier who passed his CSIA Ski instructor Qualification with flying colours. Joe credits the efforts and teachings of the Sunshine World Team for turning him into a good skier, and says he will always be in debt to them as he would never have passed his exams if it wasn't for them. He now looks forward to his work with Sunshine World where he hopes to repay the faith shown in him.
---
Alan Garcia (Sunshine World LTD, Director): I want to use the tools which in my experience make people (and myself) smile, laugh and feel great to help create wonderful moments in time. Not to make the world a perfect place, but to live and immerse ourselves in one place at one time in a truly exciting experience. ... read full about us text on our sunshineworld.co.uk website here
---
Photos of Sunshine World Chalet in Zakopane, Poland
---
Zakopane, Poland Ski Tours - Zakopane, Poland Snowboard Tours - Discount winter holiday packages - School skiing trips - School snowboarding trips - Full ski lessons and instruction - Full snowboarding lessons and instruction - Incredible ski and snowboard holiday deals - Discount holiday packages to Zakopane, Poland - Full service ski and snowboard trips from England - Chalet rental in Zakopane, Poland and Zakopane, Poland - Corporate skiing and snowboarding holidays to Zakopane, Poland and Europe - All inclusive skiing and snowboarding holidays in Zakopane, Poland other - Zakopane, Poland detinations - Some of the best discount skiing and snowboarding holidays available - Professional ski schools and snowboard schools - Skiing and Snowboarding lift passes in Zakopane, Poland and Zakopane, Poland - Easter, Christmas and winter holiday skiing and snowboard specials - Speciliazing in England to Zakopane, Poland skiing and snowboard adventure tours