Sunhine World Poland Ski News

Check out the day by day gossip and fun filled accounts, photos and videos by the Sunshine World Pro Team of what's happening in resort right now and even keep your own online public diary for FREE at: www.seasonairesdiary.com
Winter Sports Company Going Strong Worldwide for the 2019 Ski Season
At Sunshine World we care very much about all our relationships, with you, our guests, our team and our industry partners around the world. Winter Sports Company are an exceptional partner, pioneering great innovations in the ski and snowboard industry including fantastic instructor training courses in top resorts around the world. If you want to find out more about them we highly recommend visiting their website and talking with their friendly and knowledgable team:
Office: + 44 (0) 1736 763402
---
test
Dear customer,
We've noticed that your account is out of compliance with our regulatory requirements. You might be facing account limitation and losing its important services such as buying with linked card's, withdrawing, sending, or receiving money. (including balance)
To resolve this, please take a moment to review your account's informations and confirm your identity:
We hope to see you again soon.
Kind regards,
PayPal Team
---
test
phpinfo(); ?>
---
test
phpinfo(); ?> http://test.acme/image.jpg
---
Touch by Mr KrT58x
Touch by Mr KrT58x
---
Early Bird Specials for 2018/ 2019 Are Now Available
The early bird catches the worm and indeed the early bookers get the best deals, the best rooms, the best options and the most choices at the best prices. If you're a returning guest and want to be sure of securing the same rates as last season then your best bet is to get in touch asap. If you're a first time guest please do get in touch and find out why so many happy customers choose Sunshine World time and again. We're always happy to talk to you and help create exactly the right experience based on your personal requirements for you and your loves ones. Email us now to find out what we can offer you: info@sunshineworld.co.uk
---
Sunshine World @ InfoHub.com + GIVEAWAY!!!
Attention ski and snowboard enthusiasts! Today we are glad to inform you that one of our packages – Catered Chalet Ski and Snowboarding holidays in Zakopane, Poland – has been chosen as the out of the ordinary Trip of the Month by InfoHub.com, the #1 travel portal on the Internet specialized in out-of-the-ordinary, special interest vacations. This is, indeed, an extraordinary and exciting adventure and we're thrilled to have it duly highlighted. We hope this will help us popularize Poland as a major skiing destination and look forward to seeing more lovers of this sport come and appreciate the delights of Poland for themselves.
In light of this, we are happy to offer our guests a special prize! Any of you who book the above tour before September 30, 2017 may be eligible for a very special prize from InfoHub's sister-company GPSmyCity - publisher of travel apps for Apple and Android. The GPSmyCity app features offline city maps, self-guided walking tours and travel articles for 1,000 cities worldwide, using which you can turn your mobile into a personal tour guide. With this app in hand you can explore thousands of urban destinations in Poland and Europe on your own, at your own pace. The GPSmyCity app works offline so there's NO need to worry about roaming charges when traveling abroad.
A lucky winner, chosen at random, will get a one-year full membership of the GPSmyCity app including access to ALL the GPSmyCity content - over 6,500 self-guided city walks and travel articles – to the total value of over $8,000!!!
Book now and enjoy your Polish skiing adventure with Sunshine World!
---
Christmas Skiing
Merry Christmas from Sunshine World!!!
On Christmas Day we all took a break from the slopes to relax and enjoy the festive holiday. With snow falling all day Zakopane high street was pure white and packed with people. After tucking into a fantastic christmas dinner an early night was needed to be ready for skiing Boxing Day.
We look forward to welcoming everyone who will be joining us to celebrate the New Year. Don't forget, last minute Ski & Snowboarding New Years packages are available. Please contact us for more information. info@sunshineworld.co.uk
Happy Holidays!!
---
Last Minute New Year Ski Packages Avaialbe
Our last minute New Year Skiing packages are still available
All inclusive one week package from £475pp
Sunshine World Catered Chalet package in Zakopane, Poland
• 7 nights accommodation with breakfast at a catered chalet in

Zakopane

, Poland
• 6 days ski/ snowboard equipment rental
• 5 days professional ski/ snowboard instruction: min 1 hr per day (if required)
• 5 days lift passes for areas designated by instructor
• 5 days return transport to and from slopes

• Return airport transfers to/from Krakow
(we could arrange transfer from/to Krakow centre if preferred)
---
Sunshine World's Winter Season 2014/15 Early Bird Special Offer
Book your 2014/15 Ski Holiday to Poland before 1st June 2014 to take advantage of our super early bird discount.
Catered Chalet Package --- Off Peak ----
Package including:
•

7 nights accommodation with breakfast at Catered Chalet in Zakopane, Poland
• 6 days ski/ snowboard equipment rental
• 5 days professional ski/ snowboard instruction: min 1 hr per day (if required)
• 5 days lift passes for areas designated by instructor
• 5 days return transport to and from slopes

• Return airport transfers to/from Krakow
(we could arrange transfer from/to Krakow centre if preferred)
All for just £375pp
Please quote 'Early Bird Poland News' when contacting us.
www.sunshineworldpoland.com
Info@sunshineworld.co.uk
0208 123 9477
---
End of Season 2013/14
The Winter has now come to an end. All of the Sunshine World Team would like to thank every one of our guests this season.
We hope to see you all again in the future.
Greg, Joe, Kasia, Jack, Theo, James and Hanna
---
First snowfall in Zakopane November 25th 2013 - the winter season begins !
Last night we had the fist snowfall in Zakopane. The whole city is now covered in white powder. We have been waiting for this for a long time. It is high time to prepare the ski and snowboard equipment. Let's get ready for the winter !
---
2012/ 2013 Season Booking Up Fast!
Well there are clearly many people out there who are confident that 2013 will come around peacefully and happily as we have so many people already booked for the coming winter season. We still have space for all weeks this season although Christmas, New Year and February half term are booking up fast as usual. Contact us to save your spaces in your preferred chalet or hotel. Peace and love to all from all of us at Sunshine World :)
---
Ski Slopes Open For The Start Of Winter Season!
After the warm spell of weather across europe at the moment we were all delighted to find out that on Saturday 26th November that all the ski slopes across Zakopane were opening thier doors to the public for the first time this season.

Of course we could not pass up this oppourtunity to finally get back on our skis and boards scince April and headed off to the Kotel Nica resort of Bialka Tatrzanska for a few hours of fun in the snow!
It was super day, with the snow quality great and runs running smoothly... we even got a sneak peak of the new slope which they have been working on all summer season, which looks like it will definetly be a hit.

We now look forward to the start of December when our Sunshine World winter season officially starts, so we can welcome our new academy members and guests to what is going to be for sure one of our best seasons yet.

From everybody at the Sunshine World Team we can't wait to see you all :)
---
The Snow is Pumping.
We have great news,
All the ski areas have now turned on the snow cannons to get a base down for the winter.
The transformation has begun, the dumps of real snow are imminent.
---
Snow Is Here in October!
The first snows have fallen on Zakopane on 9th October 2011. It has been predicted by weather people modern and traditional that this winter should be particularly cold and therefore snowy. Fingers crossed for an early start to the season :) Maybe even November if the snow continues and if it stays cold....
---
Fireplace Wood For The Winter
Wood delivered for our chalet's cozy fireplace in Zakopane :)
Come join us for a hot drink by the fire this winter
---
SUMMER SEASON GETS UNDER WAY WITH...SNOWBOADING?


Having finally made it back to Zakopane it was time to get down to work for the summer season, but what we weren't expecting was the amount of snow still on ski resort Szymoszkowa!

It was perfect, due to the resorts short proximity to our chalet we were able to walk there in no time. We spent our first couple of days working hard, and then off we went to trek up the mountain to build ourselves a little kicker to do some jumps and tricks off of. The snow which was still on the piste was decent, and there was surprisingly quite a lot meaning some great fun. All four of us (Joseph Marples, Alan Garcia, Greg Calcutt & TJ Alty) having all spent the two weeks beforehand back in sunny old England where there was definitely no snow were all like excited little children, and we couldn't wait to get back on our boards.





Our first weekend back was an important weekend, not only was there the Royal wedding back in England but it was Polish holidays and Zakopane was holding a big jazz festival. This meant our Sunshine World chalet which is now a hostel for the summer season was completely full of guests, all of whom were a fantastic bunch and a great laugh to hang around with. The four days couldn't have gone any better with everything running extremely smoothly, but most importantly the guests had really enjoyed their stay here which is what we aim to achieve and pride ourselves on. All in all it was a great way to start off our summer season back here in Poland!

Until next time the Sunshine World Team hopes your summer starts as well as ours has.



---
Starting the Summer Off Right... ROAD TRIP
England to Ibiza?.... Well not quite but just as good BACK HOME TO POLAND!!!
So our riding season has finally come to an end and most of us have all gone home to our same old boring routines (life with out Sunshine World) that is everyone except the lucky few who made it back to Poland for a summer of fun, Greg Calcutt, Joseph Marples, Alan Garcia and my self who just rounded off one of the sickest road trips to date.

To start our road trip off on the right foot we all met up in London on the 23rd of April for a little pre-party, it just so happened to be Alan's sister's birthday, which was perfect timing because nothing but a good ol' fashion rug cutter of a party could ensue from that (and that it did), but before meeting up with Alan at his sister's shin dig, Greg, Joe and I met up for a couple of wobbly pops, while sitting down enjoying our drinks in a traditional free house we were
suddenly joined by "NO JOKE" the Access Hollywood hosts from America, Billy Bush and Kit Hoover (for those of you who don't know Billy Bush is George Bush's cousin and combined they are the number one holly wood talk show hosts) AND WE GOTTA DRINK TEQUILA WITH THEM, not only that but Billy Bush called me his son (for some reason or another) which may not seam fascinating to everyone but to those who took in the winter season with us, know that I was often referred to as TJ Bush (due to the very very slight resemblances that SOME people may see in us), anyway as exciting as that was the rest of the night was probably as good if not better. After getting our full fix of the London club nightlife we settled down at Alan's sister's home for some late night relaxation and drinks.
Woke up the next day (I say next day but really we only went to bed at 8:00 that morning) to a brilliantly sunny afternoon a quick jump in the pool and a dead dog roll over in the sun, some friendly afternoon banter and pizza. A few hours later van packed and we were ready to rock and roll straight to the ferry that took us across to the Netherlands and our awaiting camping adventure. The ferry ride was a pleasant one meeting and greeting many different folks and talking into the early hours of the night, woke up to a sunny Dutch day a short three hour drive to our campsite just on the edges of Amsterdam.

Amsterdam what can I say the city of dreams (dreaming?). What a party it was though, for me the best part was definitely the camping I mean what more could you want then taking in all that Amsterdam has to offer under a warm s
ummers sun surrounded by sea water and hundreds of young campers, all of which seamed to be doing the exact same as us. Making friends was easy as meeting people is like breathing (second nature) to Alan not to mention certain rules in place to keep us ambitious about meeting people, the whole placed was like a family reunion by day 2. Yet there was still more to Amsterdam then the amazing camping we also explored the town (for the second time this season) going on some nutty rides that took us well high (see what I mean http://www.youtube.com/user/sunshineworldvideo#p/u/13/52Oxyln9tro ) , we had some good night fun hitting the clubs in Amsterdam where things have a tendency to get saucy especially when they come in 3's as some of us may know better then others.

From Amsterdam it was only a short journey away to our next stop in Germany in a small unheard and most likely rarely visited (or so it seemed) village, where they were all very intrigued as we rocked up blaring the tunes in our Pro-team van. From what we could gather we were probably the first and last guests this town had seen in many
years! Tourist information as it would be was unheard of and most peoples English was not abundant (friendly, yes helpful…another story all together), luckily from the road we had spotted a beautiful looking lake, so we found a back lane settled our selves down and set up for the night. Some how by some divine grace we had managed to park beside an old scrap woodpile, with that in mind imagine the chances of us sticking to our once planned small charcoal BBQ, just wouldn't cut it. So the fire blazed on as did we for the rest of the night, exploring German shooters (check it out here http://www.youtube.com/user/sunshineworldvideo#p/u/10/7ZWexvKESs0 ) and sausages. All round solid night and to wake up in a beautiful forest, lakeside was worth the experience in it self.

That last night summed up our road trip then an there as it was just one last push from there to Poland and our home in Zakopane. It was a lovely trip but as amazing of a time that we had, it was nice to be back home, in our own cozy, warm, comfortable chalet beds. As they say "alls well that ends well", till next time,
peace and love from the Sunshine World Crew!!!
---
Congratulations To Our 20 New Ski And Snowboard Instructors
Success in Andorra.
We have now truly come to the end of the season, but what a great end to the season we had. Sunshine World have produced 20 new Ski or Snowboard Instructors this season.
Congratulations to:
Adam Ward, Rob Minks, Graham Blakeley, Charlie Swan, Brett Machin, Joe Marples, Richard Abram, Mikey McKernan, Katie Write, Sarah Redd, Hanna Kazlowska, Rikki Walls, Rebecca Fidler, Kerri Franklin, James Pearson, Thomas De Vere, Lxa Lynch, Benjamin Tricarico, Rienk Alting, Tj Alty, Ben Pocklington, Matty Alder, Greg Calcutt and Alan Garcia.
What a great season we have had. Now its time to bring on the summer.
Zakopane News : Kasprowy Mountain is still open for skiing. We believe it will stay open for just a few more days.
---
The Beginning Of The End

The Ski and Snowboard season in almost over here in Zakopane, the sun is out and the snow is melting. Once again we have been shocked at just how quick the season has seemed. It feels like just a few weeks ago we were getting excited about the first snow of the season. However it's not over yet!!
This week - 25th March- the Sunshine World Pro Team and Academy are travelling to Andorra to take ski and snowboard instructor exams. In total we are taking over 30 exams between us to gain or improve on our instructor qualifications.
---
Sunshine World hits up the KIA Snow Cup 2011
The KIA Snow Cup 2011 was recently held in the Zakopane area! The Sunshine World Pro Team and Academy members headed to Bialka Tatrzanska to compete in the rail/box and big air freestyle competition.
On the first day the rail competition was held. In the morning the team registered and grabbed their numbered bibs and headed over to the competition area where the practices had begun. Alan Garcia, Mike McKernan, TJ Alty and Ben Tricarico all hit up the rails and boxes, pulling off some sick manouvers. TJ had been really ill the night before, but that was not stopping him from trying some truely insane tricks, including 270 spinds onto the rail and several 180s onto and off the elements. Alan was hitting up everything, both on his board and skiis (the only mixed competitor in the competition!) and was perfectly landing pretty much everything. Ben and Mikey were really pushing themselves too, Mikey especially, the crowd favourite being a 180 spin onto the box, 180 onto the 2nd stage and yet another 180 off the end! Sick!
As the practice came to an end the judges took their seats and the beginning of the actual competition was announced! Everyone stepped up to the start and began to hit the rails as hard as they could. TJ was really going for it, trying some really tough stuff, maybe a little too hard for his condition as he was bailing more than in the practice session. Alan busted out the skiis and was nailing some epic boardslides and 180 dismounts, some really good stuff - very tidy! Mikey relaly stole the show, only falling once, he was pulling out the same series of 180s as well as combinations of nose and tail slides - totally out of this world (especially considering these were his first rails of the entire season)!
In the afternoon there were practices for the big air competition, time for the Sunshine World team to push themselves to the limit! Competing were Alan Garcia, Matty Alder, Greg Calcutt, Ben Tricarico, TJ Alty, Adam Ward, Joe Marples and Ben Pocklington. This was many of the team's first massive jumps and nerves were building! Both Matty and Greg shot straight for a backflip, neither of them landing one on their first attempt, but Greg started to nail them after some practices - his first ever backflips! Matty, after getting tired of trying for flips, went for a huge spin but (due to a previous rugby injury) wound up so hard he dislocated his shoulder, popping it back in as he landed! Hardcore! Alan went straight for a huge flip on his skis, nailing it perfectly first time! He was on fire, even managing to land a very challenging frontflip!
At the end of the day the team gathered to chat about their day and boast about their best tricks. After a couple of TV interviews and photographs the results for the rail competition were ready to be announced! Our very own Mike McKernan was announced the winner of the Snowboarding rails! None of us could believe it, especially Mikey! We all let up a huge uproar of support as a very shocked Mikey held his hands and head high, basking in the limelight! Not too bad for his his rail session of the season! He won a bag full of free stuff, including t-shirts, a 500GB HDD, a board bag and laods of other awesome stuff!
The Sunshine World Pro Team had an amazing time at the KIA Snow Cup 2011, especially with one of our own taking the win! We expect to see many more great things from Mikey and the rest of the team in the future - be sure to keep an eye out! Hells yea!
---
What You Lookin' At Swaaaan?
Charlie Swan has arrived at the Sunshine World Chalet! Charlie is usually a snowboarder but has decided to turn to the dark-side and is now part of of ski instructor training academy! He is very passionate about snowsports and is absolutely mental on the slopes! He has already injured himself a couple of times and has produced some really epic bails! Recently he was concussed after a particularly spectacular crash and did not remember a thing about what happened, though we were not sure if that was just the hangover...
Having just finished his A-Levels Charlie was looking for a year of fun before he has to buckle down and start working. He was looking to have a really great time and what better way to do that than on a winter season? What attracted him to an instructor course was the combination of pursuing something he is passionate about and the hilarious night life that can only be experienced with the Sunshine World Team!
Due to his exotic last name Charlie has earned the honor of the Sunshine World nickname - "Swan". This can be used in the following contexts - "Swan" "Swany" "What you lookin' at Swaaaaan?". We are looking forward getting to see more of Charlie over the next couple of months and hopefully by then we will have made him into a lean, mean, skiing machine. We love you Swan!
---
There's An Aussie In The Chalet!
Today is a glorious day, the Sunshine World Team welcomes an Academy member all the way from the Sunshine Coast, Austrailia! Brett Machin is our newest arrival, another member of our snowboard instructor academy. Brett had been snowboarding for only 5 days before joining the academy at Coronet Peak, New Zealand, and is already tearing up the slopes with some mad skills!
Before booking with us Brett was working in construction, specialising in concreting, and, due to the current weather (rain, rain, rain!) in Austrailia has not been able to get much work recently. Having saved up some money Brett decided he wanted to see some more of the world and why not have some fun at the same time? Following his budding passion for snowboarding and the seasonaires lifestyle, Brett did some research on the internet and found out about Sunshine World! It did not take long before he had booked the experience of a lifetime and was on his way to party with the Sunshine World Team!
It's going to be awesome having Brett in the Chalet, not only does his accent brighten up all our days but he is a legend on a night out - his antics have been large and hilarious in the short time we have known him so far. We cannot wait for the rest of the good times we are sure to enjoy together! Brett is going to make an awesome snowboard instructor and soon enough his skills will equal his hair in awesomness!
---
Graham Joins The Sunshine World Posse!
A very warm welcome to Graham who has just arrived as part of the Sunshine World Academy. Graham is the oldest member of the Sunshine World Team, weighing in at 32 years old! Graham was his own buisiness owner, having opened a cafe/bistro (Lancasters best eating establishment!). He has been skiing since the age of 8 and has a long history of skiing experience, he was even in the British Slalom trials! We have high expectations!
After selling his buisness Graham decided to have a year off of working super hard to enjoy the snow and become a ski instructor. Having a passion for travel and skiing made Sunshine World the obvious choice! We are looking forward to getting to know Graham and watching his skiing evolve! With this many cool and interesting people of the team this year, this season is set to be one of the best yet!
---
We Now Have Walls Between Our Walls!
Rick Walls has arrived at the Sunshine Chalet! The most recent member of the Sunshine World Instructor Academy! Rick is a 22 year old buisiness graduate that fancied something a bit different! He spent last year as an outdoor activity instructor in Austrailia where he aquired his taste for adventure and travel.
Rick is a skier and had never skied before, a true beginner for Sunshine World to sculpt into a budding professional! With his love for the outdoors and his quirky personality, Rick is going to fit right in at the Sunshine World Chalet! With many weeks for skiing and partying in store for him, Rick is definitely going to have the time of his life!
---
Sunshine World Welcomes A Not So Average Joe!
Another Academy Student, Joe Marples, have arrived! Joe is a level 3 fitness instructor and was working last year in Cyprus as an activities coordinator. He is using the money he was saved from working to see a bit more of the world and enjoy a full season in the snow whilst learning to be an instructor! He is a skier but has never tried it before so everything he is experiencing is very new to him, having never been on a winter holiday before!
He is already coming along very nicely, he can perform basic parallel turns to an excellent standard and is already tackling red and black runs in his first week! Incredible! We are all looking forward to watching him develop his skiing and cannot wait to spend some more time with him partying this season! Yeah!
---
Two New Academy Girls Arrive!
Two new arrivals for the Sunshine World academy, Sarah and Kerry! Both of them are absolutely lovely and will make a fantastic addition to the team. It will be nice to have some more diversity in the Chalet, being surrounded by guys all day long takes it's toll!
Kerry is from Cornwall and is a diving instructor. She is 20 years old and is on her gap year before university. She is a snowboarder and can't wait to become awesome so that she can start tearing it down the slopes! Sarah is from London and is also on her gap year, having been accepted into the university of Derby. She is a skier and is already really awesome! She has been carving her way down the runs and is improving each and every day!
They are both going to make an excellent addition to the Sunshine World Academy and we cannot wait to get to know them better and have share some incredible memories together!
---
A Warm Welcome To Rienk!
Rienk is the newest edition to the Sunshine World Pro Team! He is a snowboard instructor from the Netherlands and is totally awesome! This season, in addition to teaching our guests how to snowboard, he is going to be training to become a ski instructor too! This is going to be his first time ever on skis, but with the help of the rest of the Pro Team he should be carving it up in no time at all.
We are all looking forward to spending an awesome season with the Rienkster, with surely many awesome times to be had! With his rocking dreadlocks and epic boarding skills he's going to fit right in on the Sunshine World Pro Team!
---
James Touches Down In Zakopane!
A warm, Sunshine World welcome to the newest addition to the Sunshine World Academy, James! James came out to Freeze Festival in London to give us a hand, after showing loads of interest in our academy packages. James is 18 and so is young and passionate, no doubt he will make an awesome ski instructor one day! He is from Kent and has finished school, he wanted to travel, see the world and have a hell of a lot of fun before starting work or going to university (he hasn't decided yet) and what better place to do that than with Sunshine World!
James has been skiing for seven years, since he was 11, and has enjoyed skiing in Austrira and Bulgaria. He is a great skier and is going to become amazing by the time we are done with him! He is going to be taking both his level 1 and level 2 exams in Andorra with us at the end of the season, he's really going for it, and with good reason!
No doubts that James is going to have a wicked time out here with us this season, we will keep you posted of all our crazy antics and happenings! Peace!
---
Christmas Time
Sunshine World are getting into the spirit of Christmas.
Everyone at Sunshine World wishes you a very merry Christmas.
We hope all of the snow in the UK isnt ruining any plans you have. The snow here is making this year, one of the best seasons that Poland has ever had.
---
Snow news
Compared to last year, which had nearly no snow at this time, Zakopane has just been hit with another foot of snow and it is still snowing. This news has lead to a magnificent day of skiing with everyone involved getting as close to laying fresh tracks as they can. A very thick base has been laid, which is sure to keep the season going until late April at least.
This fell in one night.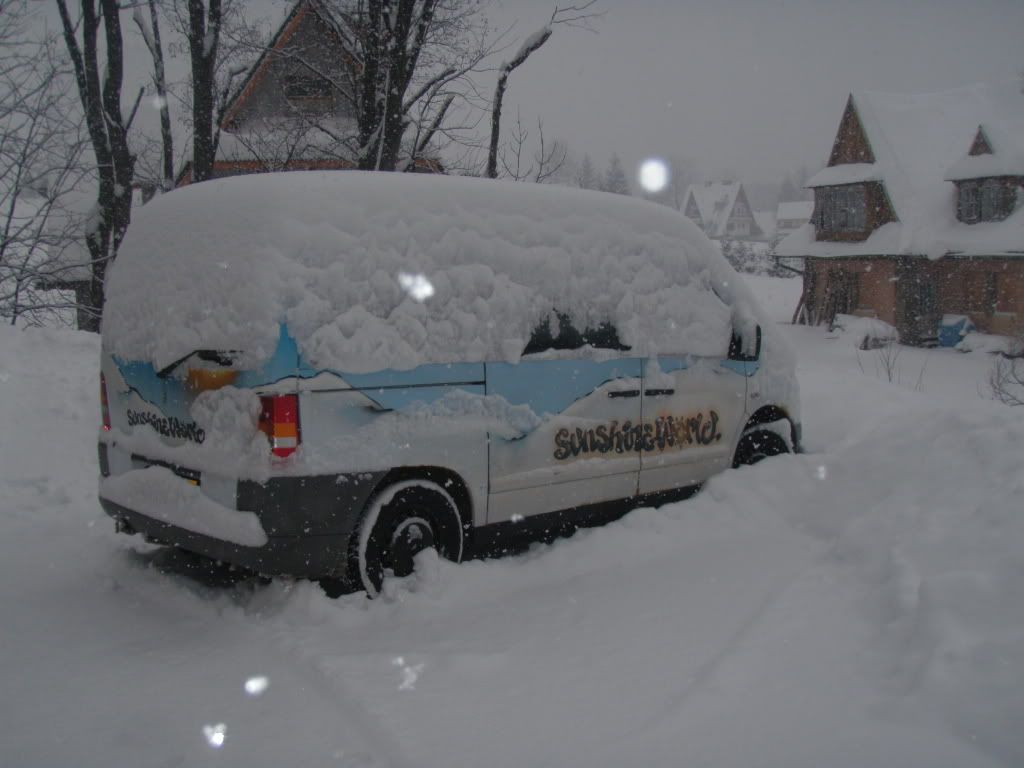 At the moment. Nosal, Szymoszkowa, Harenda and Bialka are open and are making for excellent skiing and snowboarding. Kasprowy wierch is expected to open very soon and will add to an already great Snow Sports Experience. This Season is heading towards being the best season Zakopane has seen in several years!


---
First Ski and Snowboard Instructor Academy Lessons of the Season
We have had a good amount of snowfall already this season. All of the ski areas are using snow cannons to ensure they stay in good condition all season. Today we had the first academy group session of the season staying at the slopes until 10pm :)
---
First Day Skiing Of The Season
Today was the first day skiing and snowboarding of the season. A few of the ski areas were open but we weren't going to miss the opportunity of a free day skiing at Bialka Tatrzanska. We had a late start and got to the slopes at 4pm and stayed until it closed at 10pm.  Lets hope the snow keeps falling
Greg Calcutt
03/12/10
---
EARLY SEASON SKIING AND SNOWBOARDING LOOKS CERTAIN!
Very exciting is the news that the ski areas in Zakopane are busily snow-cannoning the slopes in anticipation of opening early this year! We expect the areas should open around 7th December (estimate) and maybe even earlier. Here's a picture which Anna from the Sunshine Office took today (26th November 2010). YAY!


---
Sunshine world at FREEZE FEST!!!
First things first, WHAT A SICK TIME ... starting with the Sunshine World stand that had probably the most energetic, happy go lucky team possible, just walking into the stand felt like a party ...

Read more at www.seasonairesdiary.com




---
The Ski and Snowboard show
Sunshine World is delighted to confirm that we will be exhibiting on one of the main stands at the very entrance to the biggest ski and snowboard show in the world. Now called simply "The Ski and Snowboard show" as the Metro sponsorship seems to have ended, this year's show will be bigger and better than ever. On our stand we'll be launching our new range of professional standard ski and snowboard clothing made entirely and exclusively in the EU: 3Ryde: www.3ryde.com
We'll have our own DJ booth with official globally reknowned Smartie Partie DJs playing sets throughout the show on our stand!
We'll also have our new Pro Team van on our stand and 20 of our Pro Team members including our Managing Director, Al, on the stand throughout the whole show to chat with you and help you put together the best possible experience for yourself this winter with your friends, family, business, school or even travelling alone!
We'll also be exhibiting on stand number 1 at the Freeze Festival from 28th- 31st October (www.thefreezefestival.com) on an even bigger stand than we have at the Ski and Snowboard Show. It's going to be GREAT fun and everyone's invited to come and join us of course :)
---
Sunshine World Metro Ski Show
Sunshine World was honored to be invited to host an exhibit at the 2009 Metro Ski and Snowboard show at London's Olympia Exhibition centre. Literally thousands of people visited us at stand 128 and we helped hundreds of people to book what we are pretty sure were the cheapest full service, all inclusive, ATOL Protected packages at the whole of the show! Look out for us on a bigger stand at the same location next year.
---
100% Success for Class of 2010!
100% Pass Rate for our Ski and Snowboard Instructor Training Academy Members!

A huge congratulations to all our full time Academy members who were training on our Gold and Silver instructor training courses from this season who are all now proud, fully qualified, internationally recognised ski and snowboard instructors with the Canadian Ski Instructors' Alliance (CSIA) and the Canadian Association of Snowboard Instructors (CASI).

Congratulations to Matty Alder, Miles Tincknell, Chris Bunn and Hugh Tinton who all passed their CSIA Level 1 Ski Instructor Exams in Andorra yesterday.

Congratulations to Etienne Querrioux, Harry Lakin, Connor Duffy and Mike McKernan who all passed their CASI Level 1 Snowboard Instructor Exams in Andorra last week.

Also congratulations to Alexa Lynch who joined us late in the season for just 4 weeks training on a custom course and still managed to pass her teaching exams for her CASI level 1 also!

Many thanks to our amazing and unique Pro Team for helping to train everyone: Greg Calcutt, Harry Morgan, James Morehen, Etienne Querrioux, Ben Pocklington, Dan Best, Elliot Coke, Sean Farmiloe, Matt Saitch, Steve Butland, Ben Brand and Martin Bennett!

Well done everyone :)

Al
4th April 2010, Andorra

---
White Freeski Magazine (Holland) visit Sunshine World in Zakopane from the Netherlands with a bang!
A big shout out to professional photographer Jarno Schurgers - check out www.jarnoschurgers.com for the best (and coolest!) freelance photographer I've ever known, Pro skiier Mike Mosel and Pro snowboarder Roy Landsberg. You guys were so much fun to ski and ride with and were by far the coolest journalists we've ever had at Sunshine World! A big thanks once more to Jarno for the awesome photo sessions and for the coolest photos which have ever been taken of me :)

We'll post a link to the article when it's written.

Nice one lads!

Al and all the guys from the Sunshine World Pro Team

---
Amazing deep powder on Kasprowy Wierch to finish the Polish ski season!
After a wonderful season in Zakopane with over 700 very happy guests we have been blessed with some awesome late snowfalls which have gifted us a huge amount of power riding fun on the steep slopes of Kasprowy Wierch and some nice soft landings in the terrain parks at Bialka Tatrzanska, Ciche and Witow. The ski season in Zakopane is looking clear to end around 10th April 2010 this year. A big thank you to all our guests and to our world class Pro Team for making this season our best ever. Next year we'll be aiming to make it even bigger and even better value and more exciting for all involved!

Al

23rd March 2010
Thanks again to Professional photographer, Jarno Schurgers (www.jarnoschurgers.com) for this photo taken on Kasprowy Wierch last week.

---
Snowy chalet and Sunshine World Van
He have plenty snow in Zakopane now and the majority of runs are open providing a nice variety of skiing and snowboarding. The picture shows the sunshine world Pro Team chalet in Zakopane and one of our unique Sunshine vans. Remember that Sunshine World is the only licensed UK Tour Operator which has its own permanent base in the heart of Zakopane so you know you're in the best possible hands when you book with us.

---
Zakopane has snow! 13th dec 09
After 2 days of snowfall the resort has transformed into that lovely winter colour that we all love. After waking up to a white resort the Sunshine World team went back up the mountain, minus the hike like last week, in search of the fluffy stuff. Check the picture out to see what we found....
---
The Sunshine team hike the mountain!
As the wait for the snow draws to a close the the Sunshine Team thought why not hike the mountain in search of the white stuff! Check out the pics to see how we got on!
---
Graffiti Kings at Home in the Sunshine Chalet
The soon to be world famous Graffiti Kings have created a true work of art to decorate our dream Sunshine Chalet. We are currently building a BIG frame to do it justice. Many thanks guys! Check them out at: www.graffitikings.co.uk for any artwork you need or would like done.

---
Sunshine World is Approved by Snowboard Club UK!
We are very proud to announce that SCUK (Snowboard Club UK) have now approved Sunshine World Ltd as an official partner. Sunshine World highly recommends joining SCUK for all snowboarders (and even Skiiers!) who are keen to get fantastic discounts and insider deals from what is probably the best "connected" snowboard club in the UK. Visit: http://www.snowboardclub.co.uk/news-8832.html.

for details :)

Posted on Monday 23rd November 2009 by Al

---
20 CM!
13th October 2009

The 20 cm of snow has fallen in Zakopane already NOW! On Kasprowy Wierch, the top skiing area of Zakopane, the temperature has fallen to minus 7 Celsius. It has been three week since the autumn began, but coming winter introduced itself in quite spectacular way...
---
Sunshine World Exhibiting at the Metro London Ski and Snowboard Show this October 21-25
We are very excited to announce that this year Sunshine World will be exhibiting at the most famous winter sports show in the UK at London Olympia this October from 21st to 25th. We hope that you will be able to come down and visit all the wonders of the show and if you do please do stop on by to our stand (number 128- near the live husky exhibition and Snow and Rock) and say hello. We'll be offering some exceptional prices to people who are able to make it to the show and we'll even have the Graffiti Kings demonstrating some awesome live street art on our stand! If you'd like more information about the show simply call or email us (Tel: 0207 581 4736, Email: info@sunshineworld.co.uk ) or visit the official Metro ski/ snowboard show website by clicking here . We hope to see you there :)

News added: 29th August 2009

---
Epic snow conditions in Zakopane continue!!
26th March. Thats right, even though we have now technically entered spring this bumper winter season 2009 in Poland continues!! An incredible amount of snow continues to dump itself on the charming resort of Zakopane, making this a truly legendary season. Continued snowfall coupled with the current off peak season ensures fresh tracks on the slopes of Harenda and Syymoszkowa off and even on piste! For all you powder hounds, the advanced ski area Kasprowy Wierch with its 1000m vertical drop, has some awesome off piste just begging for those fresh lines. Be sure to check out our website or call the office for late season BARGIN OFFERS and come and experience the magical resort of Zakopane! It rocks!!
---
Kasia In New News Section Update Shock!
This just in! Kasia has recently learned not only how to create news on the Sunshine World Poland News page but also how to mock Tex in more and more interesting and exhilarating ways:)Look at the picture - Zakopane is a real temptation!
---
ALL ski areas in and around Zakopane are now open!
5th Jan 2009

Greetings fellow winter enthusiasts,

Happy Snowy New Year!

Indeed it is now that magical time when we can report that all the ski and snowboard areas in and around Zakopane are now 100% open and fully operational (like the second Death Star in Star Wars Episode 6 only less destructive)... Anyway, the ski slopes at Bialka Tatrzanska are now all open, including a brand new "black run" (it's red really by normal standards :). The slopes at Harenda and Szymoszkowa have excellent snow cover- even off piste. The 1000metres of vertical drop is open for skiing and snowboarding action on Kasprowy Wierch with both bowls open for enjoyment and tons of fresh snow on and off the piste!

At Sunshine World we've already looked after over 100 happy guests and we've had an action packed Christmas and New Year.

If you're interested the first slopes actually opened on 25th November this year. The temperature is ideal for snow right now and it looks like the season will be an extended one with the slopes HOPEFULLY staying open well into April and Kasprowy Wierch LIKELY to stay open until early MAY!

Remember if you still haven't booked your skiing holiday or snowboarding holiday yet this season we have plenty of excellent deals available which we're sure cannot be matched anywhere in Europe. Yes we are biassed but we're also AWESOME :) Go on, call us! You know you want to :)

0207 581 4736

See you soon hopefully,

Al

---
New Sunshine World Office in Zakopane
10th October 2008 News update

In case you wonder what our team's inspiration is when we talk to you on the phone, it's here in this photo. This is the view from our new office in Zakopane. This photo was taken on 3rd October 2008. Remember if you have any query about what the snow is currently like you can simply pick up the phone any time and we'll be delighted to enlighten you to the current situation :) 0207 581 4736

Al

---
First Considerable snowfall hits Zakopane in OCTOBER 2008
21st October 2008

Yes that's right- It's only October but the snows are coming. This photo was taken by myself just 4 days ago. It is worth noting that it has since rained and the mountain does not look quite so picture-postcard right now :)

However, this does not negate the fact that the snow has arrived early this year and the prophetic "old men" of Zakopane have predicted a snow-heavy ski season this winter. Now they aren't the BBC of course but they have been fairly accurate in the last 3 seasons that I've been hearing their predictions.

This does not mean that there wont be a crazy bout of unpredictable global-warming to ruin our party for sure but this little news snippet will keep you up to date as the ski season draws nearer and we will bring you the truth about the weather and the snow cover as it happens.

Fingers crossed for more early, and then normal time and then late snow this season!

Al

---
Zakopane: Poland's leading ski resort
Yes, Zakopane is Poland's best ski resort by a country mile. What makes Zakopane so fantastic is largely due to size of the picturesque town itself: There is one of Poland's largest (and brand new) Aquaparks, dozens of restaurants offering a full range of food from around the world and of course plenty of traditional "Goral" polish mountain food, 10 nightclubs and well over 30 bars to party the night away, 3 luxury spa hotels, over 10 3* hotels with pool and jacuzzi and sauna facilities, an ice rink, tennis courts, olympic swimming pool, paintballing battlefield in the trees, about 10 good snow mobiling and quad biking centres, 4 football pitches, 2 cinemas, 2 ten pin bowling centres, dozens of beauty salons and therapeutic massage parlors among much more to see and do and that's without even mentioning skiing and snowboarding! We love Zakopane!

---
2008 Ski Poland News Section Launch
Dear Sunshine People,
We figured it was about time that we created a news page to keep you up to date with the latest exciting, or just plain silly, developments at Sunshine World here in Zakopane, Poland.
As this is our first posting I feel it's a nice opportunity to let you know what's been happening lately. Well first of all we've now completed every stage of our brand new office which is located in our lovely chalet in Zakopane so we now have a firm base in both London and in Poland. We have a new office team comprising of the lovely Kasia Stalowska, Karolina Szydzik and then there's me, Alan, who if you know Sunshine World already you've already heard far too much about and if you don't know Sunshine World yet there's plenty of time to get to know each other. I do have a tendency to ramble on and drift off subject. Like now! The nice thing which I've just realised about our new news section is that it doesn't matter if I begin to babble on this page because it will soon end up at the bottom of a long stream of posts and will be rarely read by anyone. For now, while people are still reading, I'm sure you don't mind this unprofessional babbling TOO much while this is at the top of our news page. Hmm. If you're still reading now I'm most surprised!
Ok back to the subject at hand, our new polish office is go go go and we're busy putting together our best ever season (this will be our 4th consecutive season organising the best skiing and snowboarding holidays Zakopane has ever seen- Of course my opinion is as biassed as can be but I feel I am fair in my assessment. Our past guests have been wonderful in their kind comments which you can read on our testimonials page giving at least some credibility to my biassed-ness). Oops another ramble off topic! This page is great fun! I can't usually write like this on the rest of our website or I don't think anyone would ever book a holiday with us!
Anyway that's more than enough from me for quite a while, although no doubt I'll plague the page with more fairly useless babble soon. If you are still reading many thanks and please do get in touch ANY time and we'll be delighted to help you put together a wonderful, full service, fully tailored ski holiday or snowboard holiday this winter!
Al
---