Click here for our current opportunities »
At Sunshine World we believe in Freedom; Freedom of choice, Freedom for each individual to make their own decisions.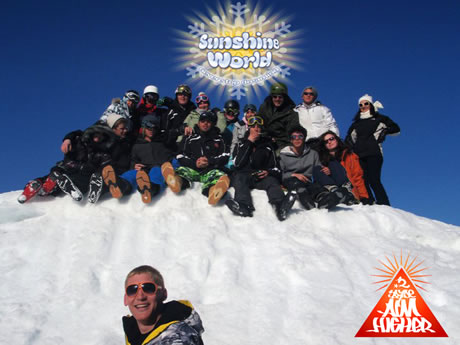 Sunshine World Pro Team and Academy members 2010/ 2011 season
We believe in creating great and genuinely magical experiences for our guests and so it is essential that our team are happy and motivated towards this goal.
We believe that in order to provide GENUINE moments it is our responsibility to create an environment for each other where we are all having a great time as much as possible. Of course we all have highs and lows- we don't expect anyone to be running around 24/7 with a permanent grin slapped on their face!
In short we believe in building a strong and cooperative team, who all know their roles in advance and will never be promised the universe only to find themselves in a foreign country cleaning toilets- Sunshine World does not employ "chalet staff" so anyone accepted onto the team can be happy in the knowledge that they will be embarking into one of the greatest jobs on this planet (in our humble opinion!).

TJ Alty Sponsored by 3Ryde, Sunshine World Pro Team Member

If you are interested in skiing, snowboarding, extreme sports and activities and have a deep love of meeting new people, socialising and working towards other people's aims and desires then why not give us a call on: 0208 133 6735 / 07726 140 599 and ask about how you can embark upon a life changing career at Sunshine World.

Why not send us an email right now to: info@sunshineworld.co.uk along with why you would like to join our Team and if possible a C.V. (as long or short as you like). We will always be happy to chat to you about the options available to you based on your skills, experience or even simply pure desire to get involved in this wonderful career path (we can even point you in the direction of OTHER companies if we can't accommodate your needs- Free careers advice for the activity holiday industry!)

Qualifications and experience in teaching and competing in sports professionally are a huge bonus, as is experience in tourism.

We have potential positions for a week, a season or a lifetime!
Hey Al, I just realized how that last time I saw you at the air port, would also be the last chance to say thank you for everything. Starting with the winter of employment when you knew you didn't even need me but still gave me the chance to come out and work with you, which is definitely one of the best seasons ever! I mean then on top of that letting me come out for the summer and teaching me to play tennis and on top of that being a friend before a boss, was appreciated at the highest levels. My time with Sunshine World could not have ended better nor been a better time then it was. Love ya lots bro and hope all the best for the summer, there's no doubt that as soon as I ever get the chance I'll be back for a visit. Peace homey Love you, the boys, Barbra and Jola!!! THANKS AGAIN FOR EVERYTHING and I CANT WAIT TO SEE WHAT YOU CAN DO WITH THE WORLD!!!!!!! miss you guys all ready.
TJ Alty 2010/ 2011, Sunshine World Pro Skiier, Snowboarder and Instructor

TJ Alty Sponsored by 3Ryde, Sunshine World Pro Team Member

TJ Alty Sponsored by 3Ryde, Sunshine World Pro Team Member